Mobilizing Industry Insights forApplication of AI in BFSI
 A NASSCOM CoE initiative
There was a time in India when going to the bank meant spending at least half a day in a long queue, waiting endlessly for a user's financial details to be updated in paper passbooks and ledgers. The bank of today is completely different – its digitized, fast and also, smart. Smart is a simpler way of denoting the extremely intuitive and efficient manner in which banks are processing huge amounts of user data. Banks are now providing smart chatbots, personalized services, preventive maintenance, fraud detection and more, to enhance customer experience and improve operational efficiency.
Increasingly, the use of AI and ML to various functions within banking and financial services (BFSI) has revolutionised the industry in India.
According to data provided by NITI Aayog and Accenture, AI can boost corporate profits by 38% by 2035, potentially adding $1 trillion to the economy. Specifically, AI is expected to have far-reaching impact on the financial services industry on traditional cost bases:
Banking Industry will witness a $450bn impact by AI
Investment Management will witness $200bn in AI impact
Insurance Industry will see a $400bn impact thanks to AI
In order to affect change within the industry and catalyse a difference in approaching business challenges, new solutions need to be more economically impactful than the current traditional cost base.
Over the past 7-8 years, there has been an immense amount of traction in the Indian fintech industry. Fintechs such as Paytm and Mobikwik brought to India the first wave of innovation by providing mobile wallets and payment options. Slowly, there has been an infusion of fintechs dabbling in provision of financial services such as credit to SMEs, insurance, remittance and accounting. A billion-strong population has enabled the stupendous growth of these fintechs, and VC confidence is testimony to the same. In 2012, VC funding in fintechs stood at $22mn while in 2015, the number rose to $1580mn – the highest to date. At 29%, India offers the highest rate of return on fintech projects compared to the global average of 20%.
But now, the time has come to take this burgeoning industry to the next level by leveraging the power of technologies like Artificial Intelligence & Machine Learning. While the innovation in the BFSI industry right now is largely restricted to chatbots, experts believe that this is just the "tip of the iceberg" – and a whole new world of innovation awaits the new-age customer. AI and ML applications can be used to aid decisions on transactions, wealth management, insurance policies, review & monitor financial fraud and so much more.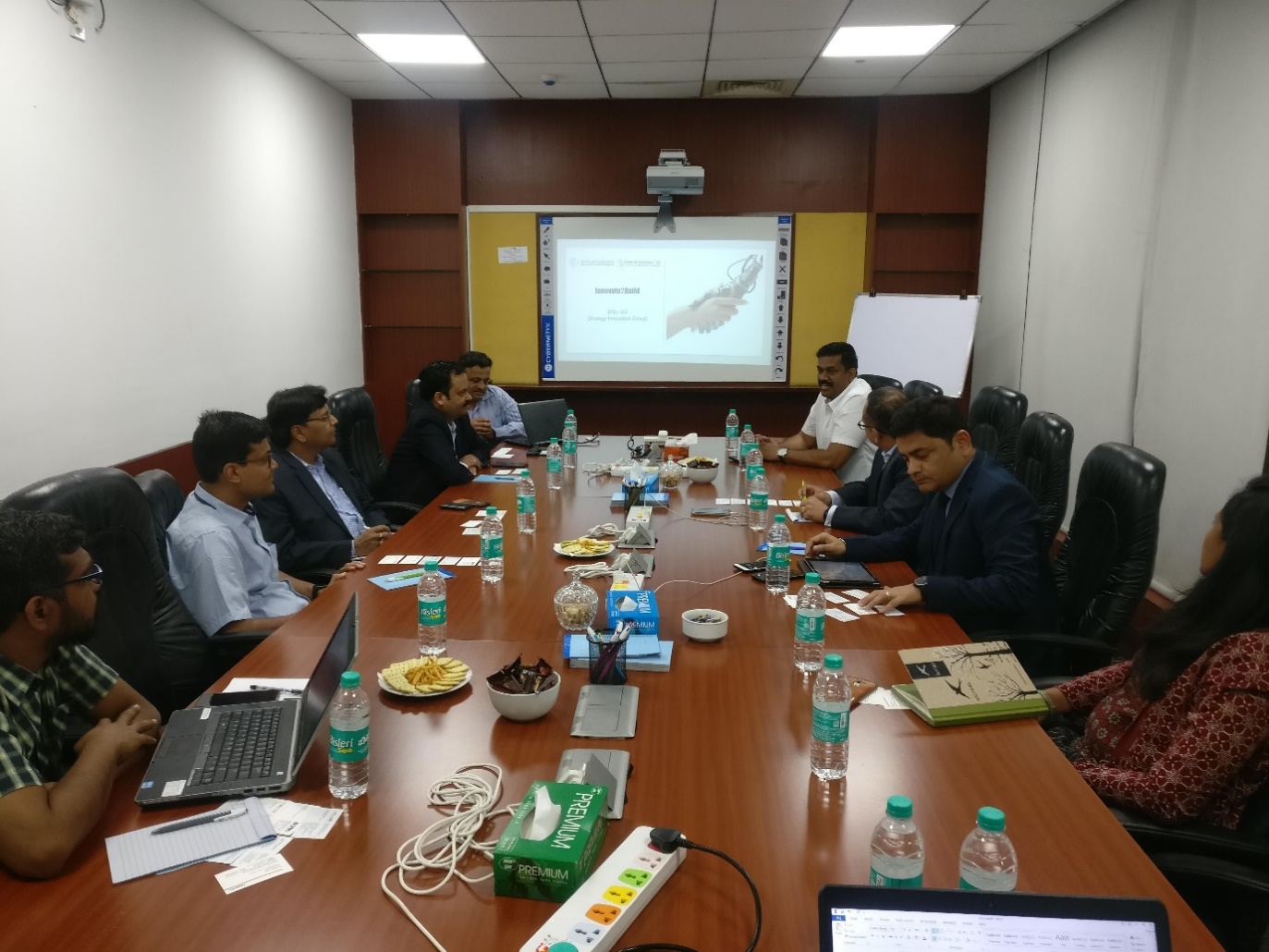 In light of accelerating innovation in BFSI, NASSCOM CoE has formed a Strategy Innovation Group (SIG) and first roundtable meeting with thought leaders in the BFSI industry was held on 5th March 2019, where the goal was to mobilize traction in the industry to take innovation to the next level.
Highlights of the BFSI-SIG:
Mobilize AI and Fintech Startups
Common observations around the group concluded that while innovation is definitely on the upswing with financial startups in India, there needs to be consistency and quality to match up to existing enterprise standards. The reach of India's BFSI cannot be overlooked, and it would bode well for startups to work with enterprises in a more integrated manner to affect change in a horizontal and vertical manner. The added expertise, wealth of experience and industry connections that enterprises have can massively be leveraged by startups, which are spearheading innovation.
Bridge the Gap Between Problems & Solutions
A pertinent observation made by some members of the group was that startups were creating more problem statements to solve, rather than analysing how to provide solutions to existing challenges in the financial sector. The need of the hour is domain-specific, horizontal innovation. In this aspect, NASSCOM CoE can act as a conduit between enterprises and startups to create a repository of existing challenges within the enterprises, and roping in the most appropriate startups to address these challenges.
Data Management Critical In FS
Without data, innovation in AI will not happen. However, the rules of data management in India still need to be chalked out properly. With regulatory approvals being put in place in light of growing cyber-crime and financial fraud, having systematic checks and standards in financial data management is critical. With inputs from a cross-section of BFSI industry bodies and decision-makers at the government level, there can be a regulatory data management framework in place for enterprises and startups looking to innovate in this space. NASSCOM CoE can tap into its existing networks and expertise to mobilize data management standards and protocols.
Innovation in other tech like Blockchain & IoT
According to some members of the SIG, innovation in areas like blockchain and IoT among startups is yet to take off. These technologies can be hugely influential in navigating the curve of innovation in BFSI. A nudge in this direction could be beneficial for deeptech startups to enhance their working capabilities, and for banks & financial institutions as well who can lend their data and existing infrastructure to support the growth of such technologies. A right step in this direction would be initiate consortium dialogues.
Current Members of BFSI-SIG:
| | | |
| --- | --- | --- |
| Participant Member | Company Name | Designation |
| Deep Thomas | Aditya Birla Management Corporation | Group Chief Data and Analytics Officer |
| Manas Dasgupta | ANZ | Head of Wealth Technology India, ANZ || Chairperson of ICT &3i Committee, BCIC || Innovation Leader & Diversity Champion |
| Sandeep Varma | DBS Bank | Head of Innovation, India |
| Hari RAJAGOPALAN | HSBC | Senior Vice President – Sales | Global Liquidity & Cash Management |
| Ramya Padmanabhan | HSBC | Innovations Lead – Commercial Banking | Global Transformation Centers |
| Dr. Vadlamani Ravi | IDRBT | Head, Center of Excellence in Analytics |
| Venkat Kumar | Kotak Mahindra Bank | Vice President at Kotak Mahindra Bank, Inventor, Head of Innovation Labs & Fintech Collaborations |
| Manish Jain | KPMG India | Partner – Digital Consulting | Fintech | Digital Ledger | Transaction Banking | Innovation |
| Arun Mehta | Royal Bank of Scotland (RBS) | Head of Data & Analytics – Digital Engineering Services |
| Sonal Tivarekar | Swiss Re | Head Strategic Initiatives & ARC Bangalore | Sr. Vice President | Global Business Solutions |
| Ramakrishna Vempati | Thomson Reuters | Lead Innovation |
| Rajesh Gupta | Nasdaq (India) | MD |
| Suresh Iyer | Nomura Services India Pvt. Ltd | Executive Director, Head of Enterprise Data Management |