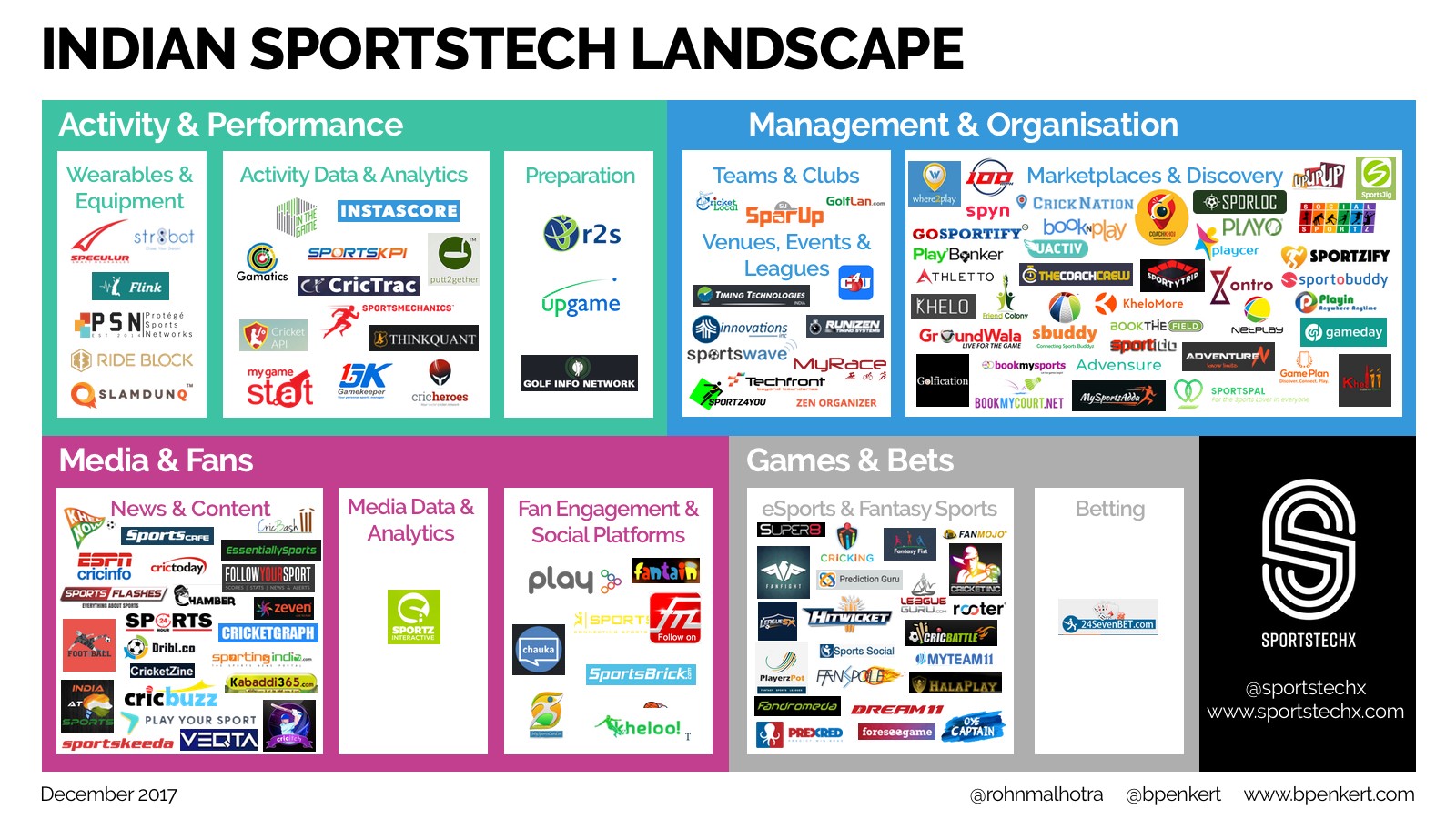 More than just cricket
The Indian sports tech space is still in a very nascent stage but there have been significant strides made over the last 18–24 months. Properties such as the Indian Super League (Football) and Pro Kabaddi League can't yet compete with the commercial clout of the Indian Premier League (Cricket), but their growing popularity and the increased interest in other alternative sports such as marathons, cycling and even eSports is indicative of a growing sports economy thus presents opportunities for startups. Initiatives such as the recently concluded Sports Analytics Conference in India and increased Investor buzz with a number of startups having raised funding in 2017 are positive signs indicating an industry that is on the brink of a strong growth spurt.
We've screened over 360 SportsTech companies in India, clustered them and put the most interesting ones into this overview. We also published overviews on other European SportsTech landscapes, now it's time for India. Other countries and regions will follow
The four sectors of SportsTech
Here's a brief description of how I divided the SportsTech landscape. Check this article for more details.
Activity & Performance: Solutions surrounding the actual performance, no matter if it's before, during or after the activity. Typical offerings are data tracker, wearables and new kinds of sports equipment.
Management & Organisation: Solutions that help to manage organisations, venues, leagues and events. Also covers platforms to find other sportsmen, coaches, etc. and to buy products and services, such as tickets or trips.
Media & Fans: Solutions that provide sports interested people and companies with all kinds of content and data. Also includes social platforms that help with branding and connecting fans with athletes, teams, etc.
Games & Bets: Companies that provide eSports, Fantasy Sports and Betting solutions, for players & gamers and as a service.
Note: Some companies cover two or even more sectors/subsectors. For the purpose of this overview they had to be assigned to only one.
Here are a few Sports Tech companies emerging from India that we want to highlight.
Cricket API : API solution for Cricket and Kabaddi, provides real time data allowing publishers to display live scores, advertisements and create fantasy games with minimal tech fuss
Fantain: Mobile based fan engagement platform helping sports teams engage with fans through various channels, also provides analytics and activation solutions
Flink: Smart badminton sensor acting as a virtual coach and smart tracker providing personalized data for performance analysis
Golf LAN: Provides a suite of golf solutions including tee time booking, virtual caddies, golf cart management and analytics
HitWicket: World's largest online cricket management game with strategic multiplayer gaming and an active online social community
Playo: India's most widely used local sports and player discovery and arena booking platform
Rooter: Sports gaming platform promoting social network driven interactions during live games
Str8bat: Developer of sensor based wearables for cricket, recently named one of the top 50 sports startups in the world by the Hype Foundation
Timing Technologies India: Provide a suite of timing related solutions for a variety of sports, primarily focussed on running
Veqta: On demand live streaming for sports content from across the globe, recently bagged the digital broadcasting rights for the Mayweather-McGregor fight
You think I've missed a company? Reach me via LinkedIn, Twitter or mail.
Distribution within the country
City distribution: As expected most of the companies are located in the National Capital Region, combining Delhi, Gurgaon and Noida. They are home for almost one quarter of the respective SportsTech market. Overall Bangalore is the city with the most companies, with Mumbai and Delhi following behind.
Sector distribution: The Indian SportsTech market has a clear focus on the "Management and Organisation" sector, especially with regards to classic marketplace solutions. It's followed by "Media & Fans" with a strong "News & Content" subsector. Worth to mention is also a populated "eSports & Fantasy Sports" subsector, which is the third biggest overall.
Approx. 63,4% of the SportsTech companies in India have been founded since 2015, which is clearly more than the European average and shows an intense movement in the market.
Interested in more data & insights? Reach me via LinkedIn, Twitter or mail.
More data coming up
I'm constantly publishing insights from the international SportsTech ecosystem and also run a podcast. Make sure you follow me here on Medium and sign up to my newsletter.
This article was co-developed and written with Rohn Malhora. You can find about more about him and his activities on Twitter and his Medium channel. Thanks Rohn for the great collaboration!
<hr size=0 width="100%" align=center>
Benjamin Penkert is the Founder of SportsTechX and Head of Consulting at the leAD Sports Accelerator in Berlin. You can get in touch via Linkedin, Twitter or email.
In case you've enjoyed this article please comment, recommend and share 🙂
Courtesy: SportsTechX