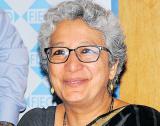 India should come up with common specifications and standards to compete in the Internet of Things (IoT) business globally, said Commerce Secretary Rita Teaotia on Thursday.
Presenting the Startup awards at the IoT India Congress here, Teaotia said though IoT business is in a nascent stage, it has been registering a phenomenal growth. "We have different stakeholders working on multiple verticals of IoT. But these stakeholders should come up with common specifications and standards to compete globally," she said.
Teaotia pointed out that if standards are linked through one common thread by stakeholders, the industry can voice its concerns globally and set the global benchmark. "Besides benefitting the industry, the specifications and standards for IoT will bring efficiency to the sector," she said.
According to research agencies, India's IoT business will be valued at $15 billion by 2020. "We have a phenomenal opportunity in the IoT space. Even though we started very late, Indians have been innovating immensely in this sphere as globally we are standing out in the crowd," said Teaotia.
She also pointed out that IoT business opportunity in India is unique as the problem to be solved is so massive in scale. "If we come up with solutions for India's problems, they can be deployed elsewhere also. We can see its impact in healthcare, automotive, smart cities, e-retail, education, manufacturing and communication," she said.
Earlier, Teaotia gave away awards to FluxGen Engineering Technologies, Pin & Park and Personal Air Quality Systems as best IoT startups, as part of the event.
Courtesy- Deccanherald
Related posts
The Life Sciences and Healthcare Industry is expected to grow exponentially in India. Federal and State governments across the globe ...