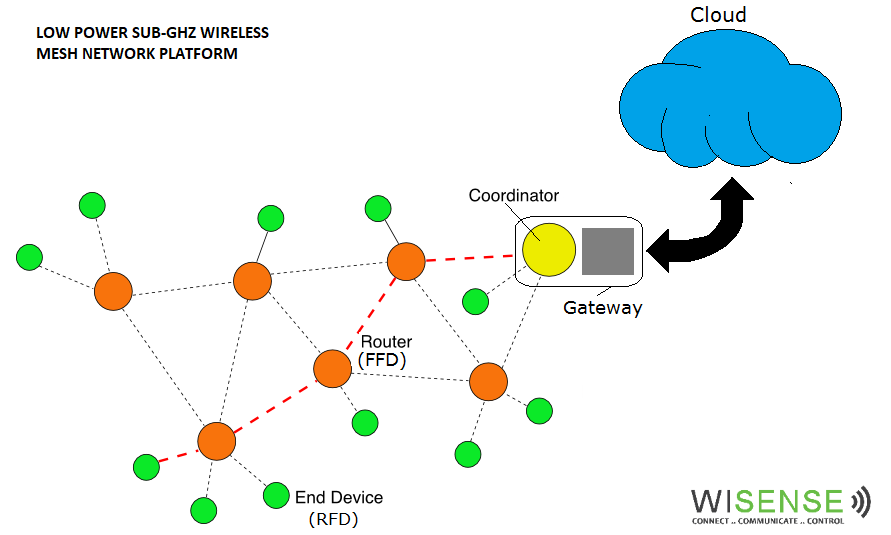 IoT is one of the hottest buzzwords in technology today. Yet, how many us really know how the magic happens between devices? It takes a seamless WiFi connection to make this happen – but this isn't alwayssimple.
Traditionally, all devices – be it laptops, tablets, mobile phones – are connected to a central node, which is usually a WiFi access point or cellular base station. For instance, if you want to send an email to your co-workers, the message travels through a network of central nodes and finally reaches the email server. If one of your co-workers isn't connected to a central node (or simply doesn't have Internet access), he isn't going to be receive that message.
So what happens when one is struck by a natural calamity? Usually, one of the first consequences is all communication networks fail, leaving thousands in peril. In comes a handy solution called a mesh network – a collection of network nodes that act independently as a switch to relay information. Instead of relying solely on a central hub, an existing mesh network will act as a backup, effortlessly continuing the communication pathways regardless of a fallback in Internet connectivity. If a link fails due to poor signal or some other obstruction, a mesh network will send the message through an alternate channel to the receiver.
This kind of technology is path-breaking and is currently being created out of the NASSCOM Center of Excellence by a startup called Wisense, an acronym for Wireless Sensor Network Solutions. Founded by Ramachandran Anantha Krishnan in 2015, Wisense is one of the few startups in India that is developing wireless mesh networks.
Wireless Mesh ForIoT
As fascinating as mesh networks sound – it begs the question as to why it is relevant to the IoT industry. Let's take a step back to look at India's Internet story so far.
With nearly 500 million users, India's Internet market is second largest in the world after China. According to Statista, there will be 635.8mn Internet users in India by 2021.
Yet, less than 30% of the population accessed the Internet in 2016, only 26% in 2015 and 21% in 2014. The numbers drop as you go back in time.
Despite a massive user base, the levels of Internet penetration in India is limited. And the fall in numbers can be seen in remote areas of the country more than the larger cities, where users are spoilt for choice in terms of Internet Service Providers.
On the other hand, the IoT market in India is rapidly growing. NASSCOM data states that the IoT market in 2016 was $1.3bn with 60mn installed units, and can reach $9bn by 2020 with 1.9bn installed units. Despite making a delayed entry to the IoT market, India has fast risen as an IoT hub due to the sheer numbers of connected devices. But let's not forget that Internet penetration still remains a challenge in several parts of India, and this is where a mesh network can greatly help.
Wisense is manufacturing low-power, wireless sensor nodes that operate on 865-867 MHz band, which is known to be a cost-effective and reliable enabler of IoT. More than 70 sensors have been interfaced to Wisense nodes. Compared to the more popular 2.4GHz ISM band, the 865-867 MHz band is free of congestion, has a longer range and higher levels of penetration.
The company currently manufactures and sells:
Wireless sensor nodes and gateways with multiple backhaul options such as WiFi and GSM/GPRS.
Wireless temperature/RH/pressure and soil moisture monitoring solutions
Wireless load cell interface for remote weighing applications
Solar power supply unit for powering outdoor wireless sensor nodes
Wisenseproducts are already being used by Hindustan Unilever for asset tracking and for a pilot World Bank project that's using IoT to increase the efficiency of irrigation for paddy and wheat crops in West Bengal. In addition, their nodes are also being used for a weather monitoring system being developed by IIT Mandi in Himachal Pradesh.
IoT Enabling Social Impact
Local mesh networks are immensely useful to continue communication even without the presence of the Internet, and automatically becomes a very useful tool in natural disaster management, accidents and in remote areas.
One of the most popular examples of wireless mesh networking is Firechat – a proprietary mobile app developed by Open Garden that uses wireless mesh networking to help smartphones connect via a peer-to-peer system. With more than a million installations, Firechat has becomes one of the highest ranked social networking apps.
During a shake drill in Manila, Philippines with a density of 700 users per sq km, nearly 80% of users received messages through Firechat while less than 35% received messages from nearby cellphone towers and servers. In India, Firechat was able to bail victims out of disaster zones like Kashmir and Chennai, which were ravaged by floods.
Mesh networks could very well be the answer to powering India's next billion Internet users, without the Internet and Wisense is potentially at the precipice of a massive opportunity to revolutionize the Internet.