NASSCOM CoE IoT spearheaded a high-level industry roundtable to discuss firsthand the challenges & opportunities in India's clinical trial industry and how technology can accelerate development
Innovation in medicine is impossible without research, and clinical trials assume a major part of sustained medical research. They are a critical step forward for new inventions to take place in medicines, medical devices, nutraceuticals and cosmeceuticals to the public.
With a 35% market share, USA has retained its position as one of the top destinations for clinical trials. As of 2015, India had 859 registered trials, but by November 2018, this number shot up to 3869. Ongoing efforts of medical research organizations, hospitals and government bodies in India have significantly pushed clinical trial figures up. Recently, new rules have been createdfor the purpose of regulating clinical trials, and are expected to soon come into effect.
Clearly India is on its way to establish its forte as a hub for quality, high-standard medical research in addition to being one of the high volume healthcare markets in the world. But in order to achieve these standards, several institutional challenges need to be addressed by hospitals, medical research organizations and enterprises in the Lifesciences/Healthcare sector.
At the recently concluded BioAsia 2019 conference in Hyderabad, NASSCOM CoE IoT's flagship initiative LHIF (Lifesciences & Healthcare Forum) spearheaded a roundtable on 26th February 2019, to explore the challenges & opportunities in conducting clinical trials in India, and how technology adoption is viewed and supported by the regulatory.
Round Table on Comprehensive Policies &
Role of Technology in managing Clinical Trials
| | | |
| --- | --- | --- |
| R. Chandra Sekhar | Deputy Drugs Controller (India) | CDSCO |
| Ms.ArchanaRamanakumar | Vice President & Global Delivery Head | Cognizant Life Sciences |
| Ms.Uma Janapareddy | Managing Director | Achiral Systems |
| Dr.Sanjeev Hegde | Head Clinical Operations | Mylan |
| Ms.Ravinder Kaur | Regional Research Manager | Wipro GE Healthcare |
| Dr.Chetan Desai | Chief Medical Officer, India & Sr Director, Medical Ethics & Research | IQVIA |
| Dr.Narendra Maharaj | VP & Head Clinical Development | Dr.Reddy's Laboratories |
| Raghuram Janapareddy (Moderator) | Director – Lifesciences & Healthcare | NASSCOM Center of Excellence for IoT |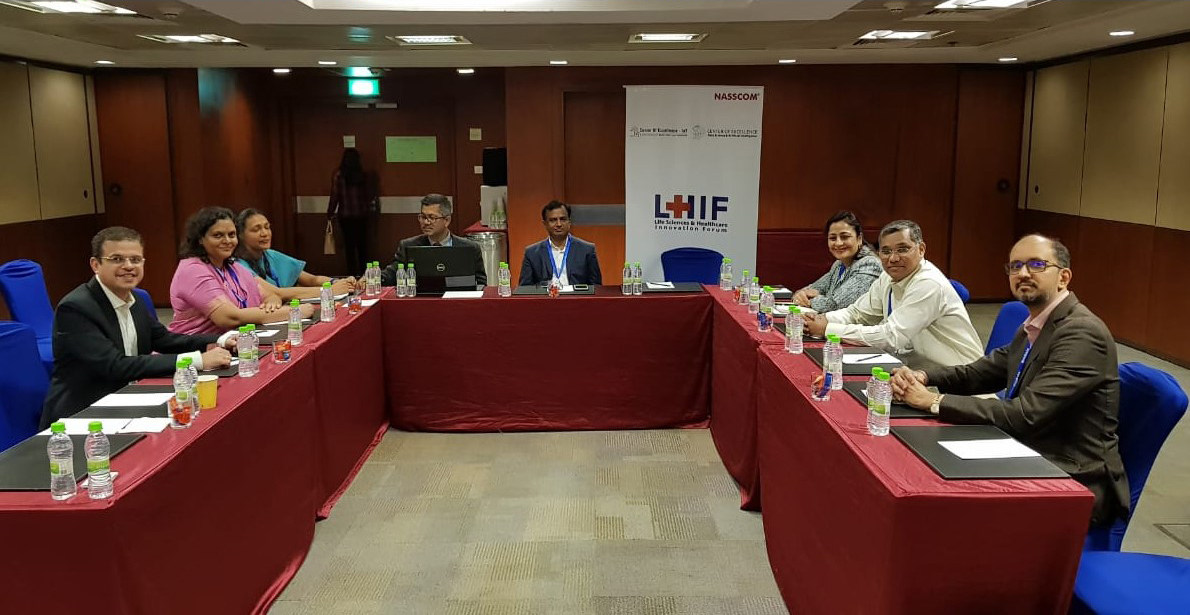 Context
Clinical Trials constitute a significant step in the path to deliver innovations in medicines, medical devices, nutraceuticals and cosmeceuticals to the public. With the global clinical trials market growing at an approximate 6% CAGR, the Indian Clinical Trials market can be expected to gain substantially. Subject safety and data integrity being the primary objective, policies and guidelines are becoming more and more stringent and comprehensive from the Regulatory perspective. Rapid changes in technology and improvised systems/devices are playing a key role in enhancing the conduct of clinical trials.
This Round Table session was organized as part of the BioAsia19 Conference held at Hyderabad, to explore the challenges and opportunities in conducting clinical trials in India (both for local and global Sponsors) and how technology adoption is viewed and supported by regulatory authorities.
Regulatory View Point
Patient safety and data integrity remain the primary focus of Regulatory authorities. Regulatory authorities focus on stringent adherence to the Informed Consent Process and adequate safety reporting mechanisms.
Besides supervising the conduct of clinical trials, Regulatory authorities also engage with various stakeholders representing patients, industry and investigators, including the Indian Council for Medical Research (ICMR) and the Indian Society for Clinical Research (ISCR) towards drafting and updating clinical trial regulations. While the Public and the NGO Groups expect stringent measures and well-defined trial guidelines, Industry also understands the importance of well-defined clinical trial guidelines and seeks a balanced regulatory environment. The Regulators aim to create a balanced, predictable and transparent environment conducive to clinical research, both industry-sponsored and academic, while at the same time ensuring strict adherence to the principles of patient safety and data integrity.
The Round Table acknowledged that clinical research stakeholders should get more involved in educating media about clinical research and benefit of research to society at large;
Knowledge about Clinical Trials Domain
Principal Investigators (PIs) are responsible for actuallyexecutingtrialsat sites as per the approved protocol. Though Sponsors and CROs ensure that PIs and site staff are trained on ICH-GCP and applicable clinical trial regulations, there is an urgent need to expand this pool of physicians who are trained in fundamentals of clinical research. This could entail integration of knowledge of clinical research into the medical undergraduate and post graduate curriculum. This will encourage more physicians getting interested in clinical research during their medical training.
In many other countries (eg. US, Europe), physicians focus on research as an integral part of their professional growth and in addition to industry-sponsored research, are actively involved in academic research that has a major impact on healthcare decisions. It is important to encourage a research environment in India that boosts investigator-initiated research.
Incentives for the medical fraternity to undertake additional research are limited considering the pressing demand to meet increasing patient care requirements. Physicians need to understand the importance of research initiatives that could be undertaken with the huge amount of data available with their institutions and how this research can help improvise their healthcare delivery. The Round Table is of the opinion that National Medical Councils should aim at integrating research into medical curriculum and ensure adequate allocation of time towards research as part of continuous medical education.
Most clinical trials use electronic data capture at sites and it is envisaged that electronic tools will be increasingly used for document management at sites as well in the future. Even though initial trainings are conducted for site staff by Sponsors/CROs during site initiation, resource turnover at sites needs to be considered to plan and ensure continued training. Another perspective from the Round Table participants is thatat a given site, site staff may need to use multiple systems from multiple CROs for multiple studies, which could be another challenge. A pool of trained tech-savvy clinical research co-ordinators at site can overcome these challenges. Sponsors and CROs will need to continue focus on training study sites on use of electronic systems for clinical trial data capture and clinical trial document management.
Database for Subject Recruitment
Regulators will focus on review of data generated on Indian subjects (pre or post marketing) to ensure subject safety. Subject recruitment could be an important challenge, especially due to lack of electronic databases at many hospitals.
Electronic health records at sites would be very helpful for investigators to help identify potential subjects for clinical trials from their database, thus overcoming recruitment challenges. EHR systems across various hospitals may not be uniform. Hospitals need to be encouraged to transition from paper records to EHR since this would have a positive impact on patient recruitment in clinical trials.
CDSCO suggested that institutions like NASSCOM should spearhead the standardization of EHR systems across the country with support from government agencies such as NeHA and C-DAC and also some of the private institutions working in this space.
Registries for Subject Safety
Subject safety is of paramount interest for the Regulatory authorities.Mechanisms need to be in place to prevent cross participation of subjects in healthy volunteer studies across the country.
CDSCO is formulating a plan to build a nation-wide registry for healthy volunteers participating in BA/BE studies with the objective of preventing cross-participation and enhancing patient safety. The modalities for technical architecture for a suitable solution and associated commercial implications for CROs/Sponsors are being worked upon.Using such a registry to capture AEs/ SAEs of subjects participating in healthy volunteer studies would be an additional advantage.
Role of Technology in Clinical Trials
Technological advances in IoT and AI are changing the way Clinical Trials are conducted. While the basic data collection through eCRF remains the main objective during the study conduct, technology can play a significant role in the data collection methods, ease of data collection and enhancing quality of data.
Use of ePRO is increasing in clinical trials, with the advantages of real time data collection on patient outcomes, including compliance and adverse event reporting. System integration challenges must be considered while implementing ePRO.
Technology can also play a role in monitoring subjects who are lost-to-follow-up.It is important both for Sponsors and regulators to understand the exact cause of drop-outs, including safety reasons, if any. Using Technology solutions, Sponsors/CROs can analyze this data and arrive at algorithms to predict/ prevent frequent drop-outs, resulting in cost and timeline efficiencies and ensuring subject safety.
Using Artificial Intelligence and Machine Learning algorithms, clinical trial management systems should be able to predict the success of the trial early-on into the study, using the data already collected. It is better to 'Fail-Fast' than 'Fail-Later'.
As part of the CDSCO e-governance initiative, electronic submission of clinical trial applications has been facilitated by the SUGAM portal that has now also been expanded to the state level. The current regulatory focus will be on upgrading the portal, including a plan for electronic reporting of SAEs. Industry expressed the challenge of maintaining huge volumes of paper-based source data and printed paper submission for product approvals. Currently, review is based on study reports and other documents with raw data requested as required. Regulatory feels that the review of electronic submissions can be explored in the future, if standardized software is available.