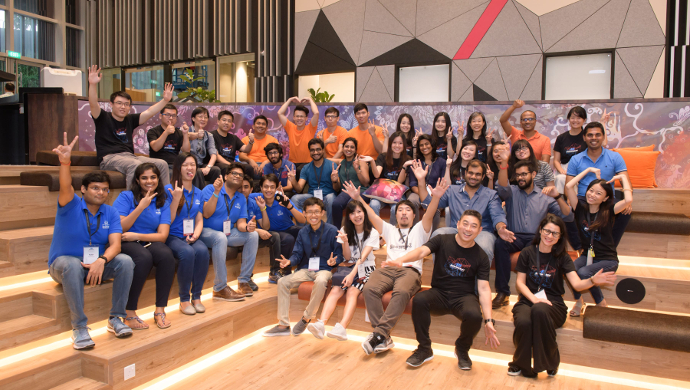 The team at AIRmaker, a Singapore-based IoT-focussed accelerator, has a knack for picking out innovative IoT startups tackling pressing problems. But what is less known is their ability to weave togethan intricate tapestry of storylines.
Lee Kwai Seng, Managing Director at AIRmaker, opened the pitching session with an introductory speech. But as his presentation wore on, he stood up, looking visibly strained — he began to stutter, nervously shifting his gaze to the floor. Then, as he was about to close his speech, Lee let out a cry of agony and exited stage left.
The audience would have been left dumbfounded — if it wasn't for the animation that popped up on the projector screen right after. It turns out Lee was just feigning a discomfort to introduce the first startup, SitRight, which aims to help correct people's sitting posture through its smart seat cover.
And that was how it was for every startup pitch: An animation introduced the problems the startups were tackling through the viewpoint of Lee's cartoon depiction (Real life Lee's self-admitted poor acting skills were, thankfully, never put on display again).
The series of animations told the story of Lee going to the hospital for his medical appointment, encountering several difficult and bizarre situations (such as pipe leakages) along the way.
AIRmaker deserves some credit for being creative in showcasing startups. After all, the audience might be more engaged with the pitches if there was a coherent narrative that linked the startups' goals together.
For the uninitiated, AIRmaker is a joint venture between sustainable urban solutions provider Ascendas-Singbridge, Shenzhen-based technology enterprise Runyang Group and Singapore government-backed tech innovation agency SGInnovate.
AIRmaker ran its first three-month programme in December last year. The pioneering batch of startups has already made significant headway in scaling their solutions. For example, SGLab will be covering 100 sq km of farmland in Malaysia, Singapore and Cambodia with its wireless IoT network.
Another startup, IoT water purifier OCEO, is already serving 500 households in India; and IoT maternal care startup JioVio (SaveMom), has already rolled out 430 antenatal kits to women in India.
Also Read: 5 deadly misperceptions to avoid when scaling out of your home market
For AIRmaker's second run, 1,300 startups applied, and only 300 were called up for interviews; 30 were then selected to present to AIRmaker's investment committee, and out of that, only 8 were approved to participate in its three-month programme.
And now, without further ado, here are the 8 esteemed startups.
SitRight
As mentioned earlier, SitRight has designed a smart seat cover that aims to correct an individual's seating posture. Essentially, it tracks the user's posture via sensors and transmits that data to a mobile app.
The seat sends out gentle vibrations when the user is not sitting correctly. The app then informs the user on the proper way to position themselves. For example, it will notify them that if they need to shift their body to the right or if their legs are imbalanced.
Using the data collected, SitRight is able to build a report on the user's sitting posture over time. This report could potentially be used by chiropractors or physiotherapists.
SitRight's founders said that the product roadmap includes "Body moulded seats", "3D scanned custom seats", and  "self-moulding robotic seats." The seats may eventually be able to track neck posture and hand postures as well.
SitRight also plans to crowdfund development of its seats via Kickstarter. It is seeking S$300,000 (US$220,700) in investment.
"Current market sensors are not very accurate…other products treat symptoms but not the root cause," claimed the founders.
Praktice AI
Praktice AI has developed a virtual receptionist for hospitals and clinics. This bot aims to help facilitate interactions between patients and medical staff by plugging up to the hospital's central line. This eases up the health administration's workload and reduces communication congestions.
The bot, which is built using Praktice's own NLP, is able to speak multiple languages and understand different regional accents. It is also able to handle more than 1,000 calls at the same time.
Currently, the bot is able to record details of the patient's conditions, make and manage medical appointments, and even gauge the caller's tone and pitch of their voice to determine the urgency of the situation.
Also Read: Globetouch acquires Indian startup Teramatrix to leverage its IoT apps to support connected cars, autonomous driving
Praktice claimed the bot can recognise 700 symptoms and 1,500 health conditions.  It can work over several communication mediums, including smartphones, landlines, and messaging platforms.
For now, the startup is piloting the bot in three hospitals in India and will trial in Singapore soon. It is seeking to raise a pre-series round.
Docturnal
Tuberculosis (TB) is a potentially fatal infectious disease which affects millions of people worldwide. While it is the developing countries that bear the brunt of it, Singapore saw more than 1,400 cases in 2016.
Currently, TB screening involves complex procedures such as chest x-rays and Sputum Spear Microscopy, which are costly and cumbersome.
Docturnal wants to simplify this process using its non-invasive TB diagnostic app. It uses the smartphone's mic to analyse the patient's cough, to check whether they have issues like Chronic Obstructive Pulmonary Disease (COPD), Pertussis, Bronchitis or Asthma.
To get a more accurate picture of the patient's conditions, the app also records pertinent details such as their occupation, socioeconomic background and other variables that might provide more context.
According to Docturnal, "the socio-economic variables could pave way for determining progression into Multi Drug Resistant (MDR)."
The startup is currently running two pilot programmes and wants to raise US$500,000 in funding.
Brain Dynamics
Many disabled people, such as those suffering from Locked in Syndrome (LIS), have trouble communicating effectively through speech. So Brain Dynamics has developed a device to help them communicate through brain signals.
The device is first attached behind the patient's ear and connected to a tablet via Bluetooth.  The tablet displays several questions, and answers that the patient can select.
The patients will then look at their desired answer, and which causes their brain to emit P300 brainwave signals. These signals are registered by the device and then transmitted to the app, which will highlight the desired answer.
Brain Dynamics is getting ready to pilot the device in Bangkok and will trial it in Singapore by this year. It is aiming to raise S$500,000 (US$367,800).
SmartClean
SmartClean has developed a solution that monitors the cleanliness of toilets in real time. It describes itself as "virtual cleaning supervisor" that enables predictive instead of reactive cleaning routines.
Essentially, there are sensors all around the toilets which detect wetness levels and air quality. They also detect how many times the toilets have been used.
The data collected are then used to analyse the cleanliness level of the toilets. When there is a need for cleaning, it will automatically send alert to cleaners.
SmartClean is seeking S$350,000 (US$258,000) in investment.
Clef Technology
Pipeline leaks are difficult to detect or inspect, especially in large complexes where there are intricate and large networks of pipes. Detecting leakages usually require pressure gauge testing and some thorough investigative work to find the source.
Clef Technology has developed a new simpler, non-invasive method. It involves installation of devices capable of detecting leaks by 'hearing' –Clef calls it "acoustic leak detection technology".
Also Read: Japanese cybersecurity company Trend Micro launches US$100M VC fund for IoT startups
These devices take thorough acoustic readings of the pipe lines independently and send the data back to the operators, who will check for anomalies.
Clef claimed these devices have a 98 per cent accuracy rate and a two minutes detection time.
StaTwig
Blockchain, with its near impenetrable security protocols, is helping to make contracts, currencies or data records more secure. StaTwig is hopping on the blockchain bandwagon to disrupt the logistics space — specifically, the 'Cold-Chain' industry.
Cold-Chain is a temperature-controlled supply chain used for food, vaccines and biological materials. For now, StaTwig is hyper-focussing on vaccine deliveries.
Using blockchain and IoT technology, StaTwig's devices can track the vaccines in real-time, record their temperatures and transactions as they make their way from manufacturer to the consumers.
All these data are stored in blockchain (ensuring ownership records are not tampered with) then uploaded to the cloud.
Eyedentify
Eyedentify makes travelling in taxi/private-hire car or bus more secure for both passengers and drivers.
Basically, its IoT telecommunication device record activities taking place in the vehicle and sends off alerts to a central control centre if an incident or accident occurs. These alerts are sent via cellular connections or long distance radio signals if cellular connections aren't available.
Also Read: Learn from LinkedIn, how the company grew from 500K to 500M in 13 years
Some use cases are pretty straightforward. For example, if a collision is detected, the alert is automatically triggered and a notification is sent to the control centre immediately.
But other cases are more subjective and require more input from the users. For these scenarios, there are panic buttons for users to activate in the event of an emergency.
Also, while loud noises automatically trigger alerts, they are not necessarily indicative of an emergency case. For example, a scream may come from a parent's moody child. In such scenarios, Eyedentify's two-way voice and video communication features come in handy; the parent can simply assure the control centre that everything is fine.
Eyedentify claimed that its devices cannot be tampered with. Any attempt to do so, will, of course, trigger alerts.
Claims of nasty ride-sharing experiences are aplenty. Governments can make it mandatory for these operators to implement Eyedentify's devices in all their vehicles to ensure passenger and driver safety (similar to how US law enforcement officers are required to wear body cameras to ensure they abide by their protocols).
Courtesy- e27