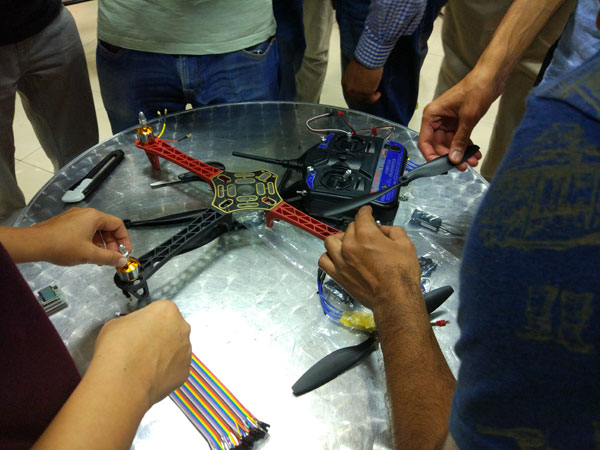 Drones have become increasingly popular and have captured the imagination of one and all. The multiple utilities of Drones coupled with the enormous appeal that Drone making/flying has garnered over the last few years has opened up many avenues for innovations in Drone technology.
Drones today are being used for all sorts of purposes ranging from weaponization and surveillance to disaster relief and recreational photography/videography. The great potential of Drone technology and its full ability to influence and impact society is still largely untapped.
NASSCOM Center of Excellence – IoT in partnership with the Facebook Developer Circles, Bhive, TiE & Headstart recently hosted a Drone making workshop in Bangalore on the 22nd of April. The session was the first of a series of potential programs which aim to educate people about Drone Technology and equip ardent enthusiasts with the ability to build their own versions.
The contextual narrations for the session were delivered by Karthikeyan NG, Head of Engineering – Chumbak and Arun, Lead – Arctic Falcon. The opening notes set the tone for a hands-on workshop which incorporated sessions on Introduction to Quadcopters, real time examples, components, configuration, building and troubleshooting.
The session was received with great enthusiasm and interest and was appreciated by the attendees and participants alike to pave the way for many such programs in the future.