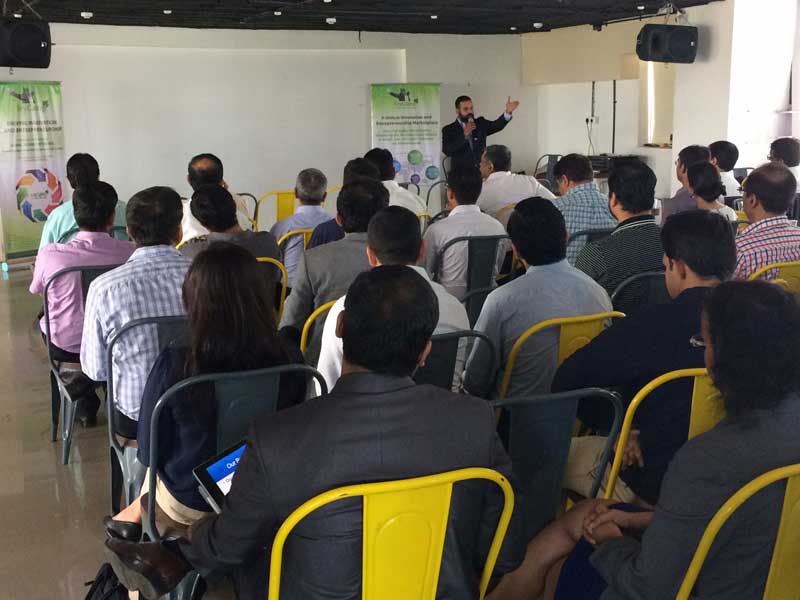 NASSCOM CoE-IoT & the NASSCOM 10000 Start-up alongside IvyCap Ventures held the third season of Rendezvous IoT (RIOT-3) supported by the Government of Maharashtra and Maharashtra Industrial Development Corporation. The event was conducted for IOT start-ups to connect with seasoned mentors, angel investors and venture capitalists. CXOs and industry experts from different corporates came down to discuss & identify start-ups of their interest with diverse modes of engagement.

The rendezvous emphasized on start-ups working in IOT, Artificial Intelligence, Machine Learning, VR and Hardware Space. It was a proclaimed opportunity to tap into start-ups and identify solutions that could address business problems.
The NASSCOM and IvyCamp's encouraged pragmatic strategies and initiatives to bolster the IoT movement in Indian StartUp Ecosystem including cultivating innovation, educating the investment community and fostering partnerships between industry and the start-ups.
Speaking on this occasion, Anju Gupta, President and co-Founder – IvyCamp said, "IoT/AI/VR/Machine Learning is a massively untapped opportunity and market in India and globally. Our Partnership with NASSCOM and activities like RIOT are focused on providing the focused support and connects that startups in these areas need. RIOT 3 was focused on the much needed critical pillar of corporate, which offererd the real world application, market, and resources. This corporate – start-up connection is also vital to educate our innovators on the real world problems corporate are trying to address – and through this, bring more practically driven innovation into our startup ecosystem."
The earlier editions of the event, RIOT-1 and RIOT-2 witnessed multiple startups and investors participating in the event. The total amount of funding awarded has been over INR 7.5 crores across both the editions. As evident, the previous 2 editions were more investor focused with separate Angel and VC tracks happening based on startup's maturity.
With this edition, we went ahead and wanted to raise the bar higher by bring in NASSCOM's corporate members to interact with startups and explore possibilities of potential orders, GTMs, acquisitions, investments and the likes. For corporates, it provided an opportunity to tap into startups to identify solutions that could address their business problems.
As an initial outcome of the event each startup was able to meet about 2-3 corporates at minimum in their respective domain. Each corporate expressed interest to further their discussions with at minimum 2-3 startups. Microsoft expressed interest to offer BizSpark program to many of the companies showcasing there
We are clearly seeing Mumbai-Pune ecosystem emerge as a big hub for IoT startups and will look forward to do more such meaningful programs in future as well.