27apralldayalldayWorld's First Program on AI, IoT, Blockchain @ Auto | In Partnership with FICCI & NASSCOM CoEHoliday Inn, Aerocity, New Delhi Event Organized By: FICCI & NASSCOM CoE CoE Events:Past EventsSupported Events:Supported Events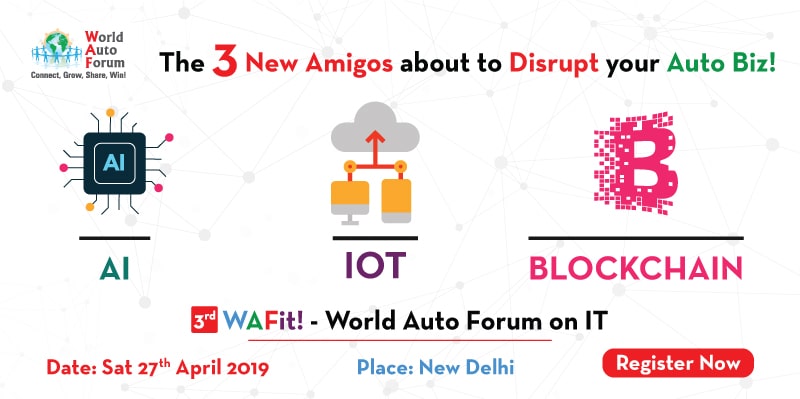 Event Details

GOLD PARTNERS

PARTNERS


SMART CITY EXPO PARTNER

World Auto Forum – WAF is the Global Automotive Think Tank with Fans in 125 Countries
WAF is all set to do World's First Program on AI, IoT & Blockchain at Automotive, in association with FICCI &NASSCOM. Its time we are armed with the Right Actionable Knowledge before these Three Emerging Tech disrupt & transform the Auto Industry forever!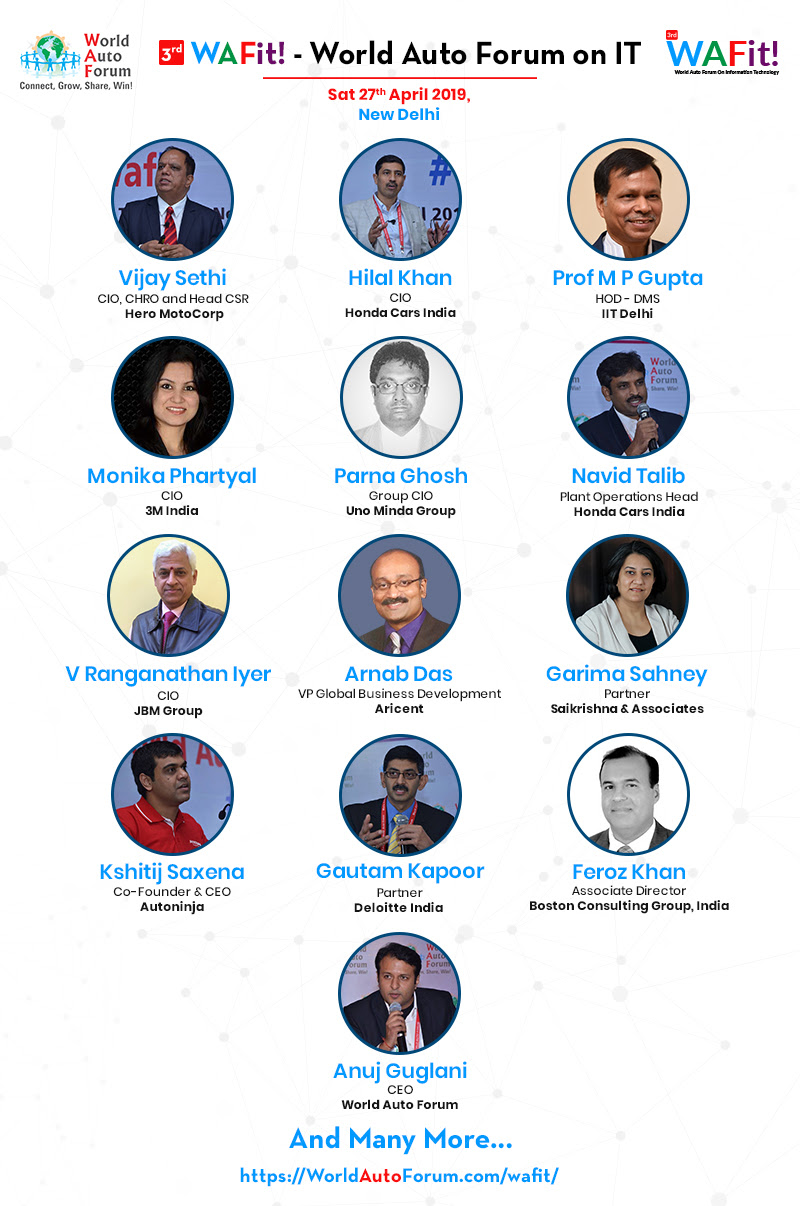 The New Age Three Amigos: AI, IoT & Blockchain
This Trio of Tech shall encompass & empower ACES, Cloud, SAAS Models, Smart Contracts, Responsive Supply Chains, Smart Manufacturing, Seamless & Safer Digital Payments and much more!
3rd Edition of WAFit! – World Auto Forum on IT 
We at World Auto Forum are all set to hold the 3rd Edition of our famous Tech @ Auto Summit called WAFIt! – World Auto Forum on IT!
Its time to decode AI, IoT, and Blockchain for our Business, Career, and Industry!
We invite you to register and attend 3rd WAFit! and be ready, armed and fighting fit to embrace tomorrow.
3rd WAFit! is on Sat 27th April 2019
at Holiday Inn, Aerocity, New Delhi

Block your Date, Reserve your seat before its all booked and sold out!
Partner Us For Success In Global Auto Industry!
Last Few Slots left for Sponsorship, Partnership, & Media Tie-Ups.
Please feel free to contact:
Monica Ray, +91 11 49057413, awards@waf.bz
Anuj Guglani, +91 98105 52425, anuj@waf.bz
India
D-1/25 Ground Floor, Vasant Vihar
New Delhi – 110057
USA
2232, South Main Street
Suite 250 Ann Arbor, MI 48103 Detroit
2018 -19 India World Auto Forum Calendar
Sat Feb 16th, 2019 WAF MasterClass on M&A at Automotive
Sat April 27th, 2019 WAFit (3rd World Auto Forum on IT)
Sept, 2019 – HEVEN (3rd Meeting of HEVEN – Hybrid & EV Experts Network)
Oct 2019 – ALEN (2nd Meeting of Automotive Legal Experts Network)
Oct 2019 – WAF Awards (7th World Auto Forum Awards for Auto Maker CXO's)
Dec, 2019 – IVASS (5th India Vehicle After Sales Summit)
All Here : https://WorldAutoForum.com
Location

Holiday Inn, Aerocity, New Delhi