22aug(aug 22)5:56 pm23(aug 23)5:56 pmSpecial Delegate Registrations For IoT India Congress 2019, Now Open!Hotel Lalit Ashok, Bengaluru Event Organized By: IOT India Congress CoE Events:Past EventsSupported Events:Supported Events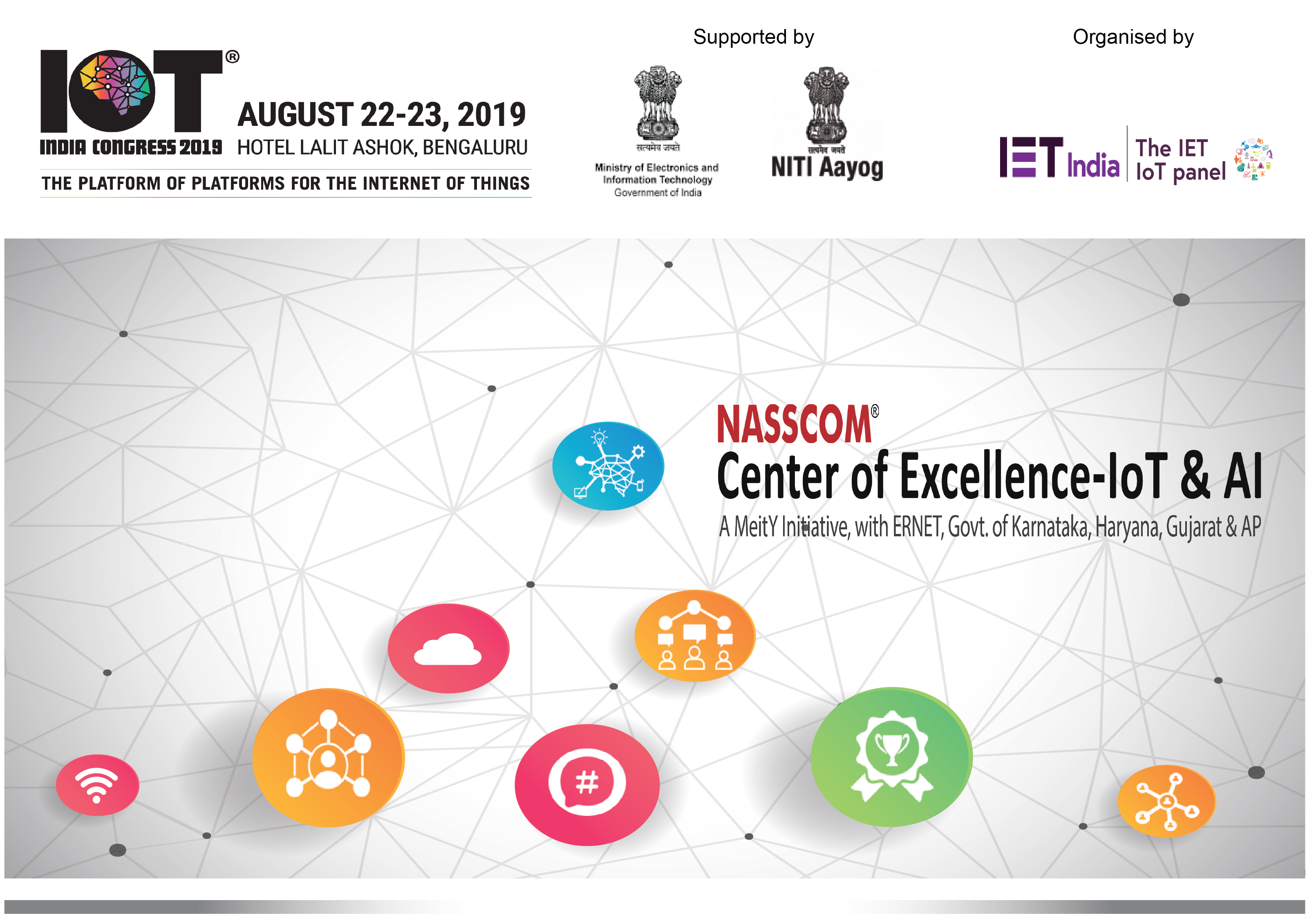 Event Details

NASSCOM Center of Excellence is pleased to be associated with the 4th Edition of IoT India Congress scheduled on 22-23 August 2019 at The Lalit Ashok, Bengaluru.
The theme for IoT India Congress 2019 is "Mainstreaming the Internet of Things". Digital technology stakeholders, CXOs and decision-makers from the global IoT ecosystem along with Indian policymakers and influencers will be present at the event this year.

In 2018, the 3rd edition saw 113 Speakers, 53 tech showcases and 2,144 attendees over 2 days- 44% of the attendees are CXOs and 24% represent senior management. Over the 3 editions, the event has gained significant momentum and engagement with key ministries of the Government of India. The event has gained momentum and grown into the platform of Platforms for the Internet of Things.

What to expect in 2019?
The event is designed around 10 industry segments. It is formatted in such a manner that each track presents a Use Case implementation, live problem solving and future tech-spotlight which will give a sneak peek in the future of IoT in that particular industry track.

Highlights of 2019:
10 industry tracks – manufacturing, smart cities, utilities, agriculture, digital communication, retail, healthcare, defence, standards and regulatory, skill development
3 super Keynote addresses from global technology influencers who will provide a glimpse into the future of IoT
70+ featured exhibits and solutions from IoT applications where one can touch, feel and experience IoT like never before
Mega Transformation that depicts what it takes to implement large scale multi-million dollar IoT projects
PoP 91 Innovation Challenge which helps solve problems that the industry is seeking answers for
22 hours of learning, discussions and problem solving in 2-days
Industry awards and recognition that appreciates IoT leaders and innovators who play a pivotal role in shaping the Indian IoT juggernaut
Come and experience the world of IoT like never before. From witnessing global technology influencers providing a glimpse into the future of IoT technology to experts solving business cases built around critical industry challenges, the event facilitates deeper engagements to build a stronger ecosystem for IoT.
As a member of our Association Partner, we are pleased to offer you special registration rates. Click on the link to avail this offer.
See you in August in Bengaluru at the most important IoT event of this region!
If you have a question or a query, please email us at secretariat@iotindiacongress.com
Time

22 (Thursday) 5:56 pm - 23 (Friday) 5:56 pm
Location

Hotel Lalit Ashok, Bengaluru