30apr(apr 30)9:00 am(apr 30)9:00 amLHIF - Lifesciences & Healthcare Innovation Forum30 April 2019, Shangri-La's Eros Hotel, New DelhiShangri-La's Eros Hotel, New Delhi Event Organized By: Nasscom CoE IoT CoE Events:CoE Events,Past Events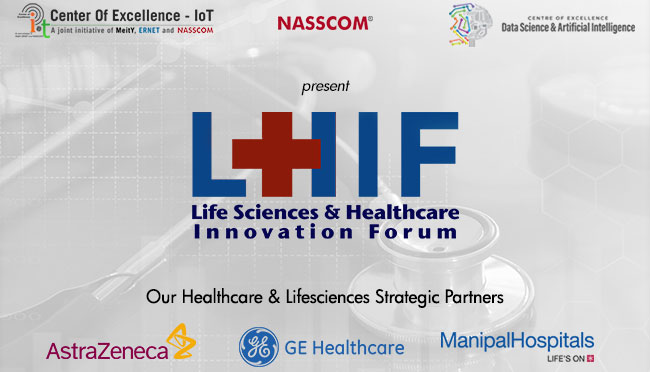 Event Details

We are pleased to announce the 5th edition of NASSCOM CoE's flagship healthcare initiative LHIF – Lifesciences & Healthcare Innovation Forum, which will be focused on Digital Propulsion of Universal Healthcare, scheduled to be held at the Shangri-La Hotel, New Delhi on April 30, 2019.

LHIF will bring together senior decision-makers from Govt., Hospitals, Pharma Companies, Medical Device Companies, Startups/Innovators, Academia and other relevant stakeholders from the ecosystem to discuss the innovation and subsequent adoption of emerging technologies in healthcare.

Ms. Debjani Ghosh, President, NASSCOM will inaugurate the session along with senior representatives from the govt. and enterprises like Astra Zeneca, GE Healthcare and Manipal Hospitals amongst many others who will be present at the event. This Innovation Conclave will deliberate on the means and methods for enhanced digital propulsion to improve healthcare delivery across India.
SOME OF THE HIGHLIGHTS AT THE SESSION WILL INCLUDE:
Digital Intervention in Patient Lifecycle Management
A Roadmap for the Adoption of Electronic Health Records
Home & Remote Healthcare Management
Pitches by Healthcare & Health-tech Startups
Key Confirmed Attendees:
Sri.Ajay Sawhney, Secretary – MeitY
Sri. Lav Agarwal, Joint Secretary, MoHFW
Sri. J Satyanarayana, Chairman – Unique Identification Authority of India (UIDAI)
Mr. Pramod Bhasin, Non-Executive Vice Chairman – Genpact
Padma Shri Saurabh Srivastava, Chairman at Indian Angel Network, Co-Founder NASSCOM
Dr. Neena Pahuja, Director General – ERNET
Ms. Debjani Ghosh, President – NASSCOM
Dr. Vijay Agarwal, President – CAHO
Dr. Giridhar Gyani, President – AHPI
Mr. Siddhartha Bhattacharya, Secretary General, NATHEALTH
Dr. Deepak Agrawal, Professor, Neurosurgery & Gamma-Knife, AIIMS
Siva Padmanabhan, VP, Software Shared Services & Head, AstraZeneca
Dr. Raj Mohan Panda, Additional Professor, The Public Health Foundation of India
Mr. Rohit M.A, Co-Founder, Managing Director Cloudnine Hospitals
Mr. Nalinikanth Gollagunta, President & CEO, GE – Healthcare South Asia
Mr. Dileep Mangsuli, CTO – GE Healthcare
Dr. Sandeep Budhiraja, Clinical Director, Max Healthcare Group
Dr. Pooja Sharma, Head, Medanta institute of Education and Research
Mr.Gagan Singh, Country President and MD, AstraZeneca Pharma India Limited
Mr. Sumit Puri, CIO, Max Health
Mr. Rajiv Sikka, CIO, Medanta
Mr. Ashish Gupta, CEO, Doc Prime
Mr. Arvind Sivaramakrishnan, CIO, Apollo Hospitals
Mr. Praveen Srivatsava, Joint Director, CDAC Noida
Mr. Suresh Kumar, CTO, Wipro GE Healthcare Clinical Operations
Mr. Sameer Mehta, COO and Managing Director, Mehta Hospitals
Dr. Raghuram Mallaiah, Director Neonatology, Fortis la femme, Delhi
Time

(Tuesday) 9:00 am - 6:00 pm
Location

Shangri-La's Eros Hotel, New Delhi