24may(may 24)2:30 pm(may 24)2:30 pmDigital Transformation of the Manufacturing and Heavy IndustrySheraton Grand, Pune Event Organized By: Nasscom CoE IoT CoE Events:CoE Events,Past Events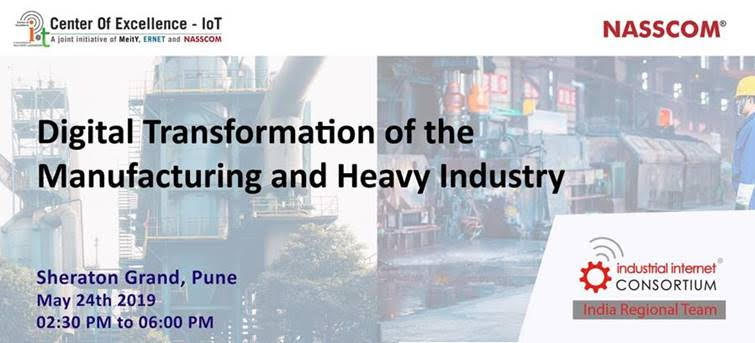 Event Details

As the combination of advanced manufacturing processes and diverse digital technologies continues to proliferate leading to digital transformation of manufacturing enterprises, we see a pushback and resistance to the technology adoption. While the wireless communications, Internet, innovative solutions, predictive maintenance allow Manufacturing industries to benefit from the lowered adoption costs, the concerns in the form of lack of standardization, skilling, security issues continue to bedevil the users.

Centre of Excellence – IoT is taking lead in getting the real issues on table, in front of the solution developers so that they can put their energies and focus in coming out with solutions that can address the real concerns of the users and in the manner that user wants. With that in mind, a conference on Industry 4.0 focusing on "Digital Transformation of the Manufacturing and Heavy Industry", is being organized at the Sheraton Grand, Pune on May 24, 2019.

The objective of the conference is to make an impact by creating an ecosystem of Technology Players, Manufacturing Enterprises in different sectors like Automotive / Auto-Ancillary / Heavy Engineering, and Innovative Start-Ups. The session will revolve around discussions on sharing the experiences of Technology Adoption undertaken by the firms in their own operations, sharing of experience working with various customers by Technology players and Innovative Start-ups. The conference will provide a platform for networking, explore possible business opportunities, address business challenges. The session will also cover the NASSCOM efforts in addressing the critical skill gap adversely affecting the technology adoption by users.

Intended participants: Senior leaders from Manufacturing and Heavy Industries, Industrial IoT experts, IoT service providers.
Timinings

Details

1430-1500 hrs.

Registration and Networking Tea

1500-1510 hrs.

Opening Remarks and Welcoming
Mr. Sanjeev Malhotra
NASSCOM

1510-1550 hrs.

Keynote Sessions

The digital technology adoption has different meanings for different companies. Even within the manufacturing sectors, different players at different curve in their digital transformation have different experience to share. The challenges would be different and the expectations also would be different.

In these sessions, we aim to bring different perspective by users from different industry segments about the technological / structural challenges faced and how those were overcome. Also a view on how they see their digital journey going forward.

Keynote Address
Dr. Manoj Athawe, Cummins Group
Keynote Address
Mr. Mukund Shah – Badve Group

1550-1640 hrs.

Case studies

This session will focus on the case studies by different solution providers where they will share their experiences on working with different Customers. The session will highlight different manner in which solutions have been adopted by the users

Case study by Intellinet

Case study by Altizon

Case study by Entrib

1640-1700 hrs.

Skilling Gap – An Industrial User Perspective (Dr. Kiran Bala, Head - HR, SKF)

1700-1720 hrs.

Networking Tea and coffee break

1720-1805 hrs.

Panel Discussion – Enhancing the Sector

While there are large number of players developing solutions, user world has its own concerns. Those rotate around the Initial investment needs, ROI, Security, Vendor agnostic, Internal capability in being able to manage the technology etc. These are some of the factors that hinder the digital technology adoption by manufacturing players.

In this session the participants will share their experience in cross function interaction as well as the concerns from employee aspects. We have the mix of manufacturing players and solution providers to shed light on different aspects related to the digital technology adoption
* To be confirmed
The participation is Invitation Only.
"Please click HERE for Registration link" (no participation fees)
For sponsorship opportunities and other queries, please write to Pulkeshian@nasscom.in / Ishani@nasscom.in
Time

(Friday) 2:30 pm - 6:00 pm
Location

Sheraton Grand, Pune